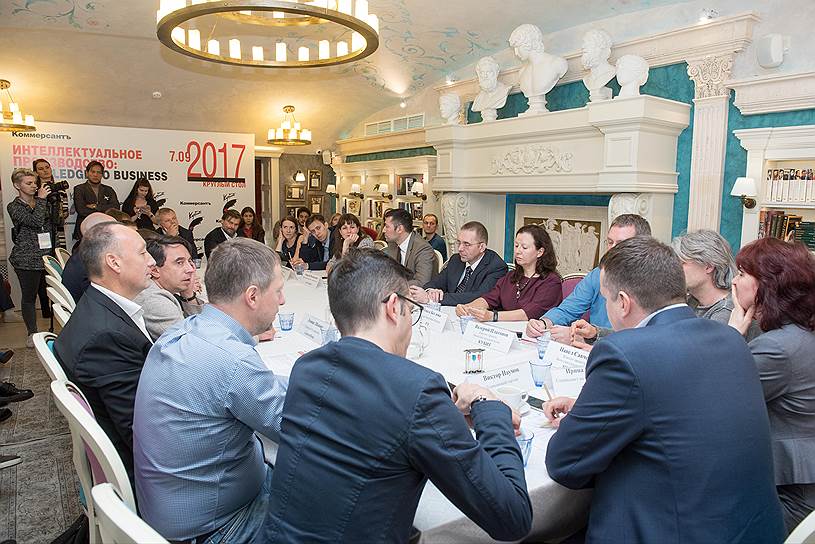 Turn Everything Upside Down
The development prospects of the market of intellectual services, models of intellectual capital management and the potential of business automation have become the topics of the round table "Intellectual Production: Knowledge to Business" held by Kommersant Publishing House.
In the modern economy, intangible factors start exerting influence on the company value not less than material ones. For example, the Apple Company forms the added value due to mobiles design, marketing and after-sales services rather than mobiles production. One can observe the same in other areas in the economy. All this confirms that the intellectual potential of employees, their knowledge and skills become a factor in the business competitiveness which is no less important than the physical capital.
According to Anton Fedchin, the Leader of the Odnoklassniki project, the intellectual services market is a metric of the country's economic development. "In the modern economy, the one who knows how to create a complex system is ahead of the game. We can make a nuclear bomb or cannot, or we can make a spaceship or cannot not. Any complex system requires great intellectual potential. In fact, intellectual services are the further development of the education and training system. It allows specific companies to get access to expert investigation and knowledge already on the local level," Anton Fedchin said.
At the same time, the roundtable participants have agreed that knowledge and competencies of employees are often perceived not as a competitive advantage. "We need to teach the market that intellectual production, intellectual labour costs money, because people are not always ready to pay," said Andrey Roslov, CEO of InoGroup.
This is largely due to the complexity in assessment of a contribution which intangible factors make to the company value. "You can monetize knowledge, but it is nothing for business because it brings no value. When we find a measurement of intellectual capital and bring it into our balance sheets, we will get equal to the material production with machines, patents in its balance sheet," emphasized Valery Platonov from the Qubit Business Duet.
There is no problem inasessing knowledge which gives a result expressed in money, objected Maxim Dyshlyuk, a member of Board of EDRID, JSC. According to him, two indicators should be followed to during the assessment: availability of legal protection and capital return. We have a lot of assessments, but there is an issue of the data verifying, the expert concluded.
Tatyana Nikiforova, an advisor to the Dentons law firm, also paid attention to intellectual property as a factor in investment protection. She provided an example of the company Kodak which suffered serious financial losses due to failure to register a patent for instant printing technology on a timely basis. As a result, the company had to pay compensation of 900 million USD to Polaroid and close a new plant worth 1.5 billion USD.
Profitable Business
The evidence from practice shows that consulting can bring a return for intellectual businesses that is comparable to the main product. "We have a number of heavy software products which require some fundamental knowledge in linguistics, mathematical statistics or data analysis to be used. Selling these products to customers, we have to support them with consulting services for personnel training and the product implementation. And these services are expensive. Now, for a number of products, we earn up to 40-50% of the revenue from the consulting services for these products," said Alexander Belozerchik, Director General, Speech Technology Centre, about his experience.
Not to let the knowledge of employees remain unused, and to force it to work for the company, an efficient system of intellectual capital management is required. According to Irina Pavlenkova, an ideologist of the project "Intellectual Flow", in intellectual production people are simultaneously means of production and productive forces that cannot be built into conveyors like machines. "Demand in intelligent services are going to increase. And we will have to combine certain processes in intellectual production, structured and standardized, and at the same time to keep the ability to respond to non-standard requests of the customers when creating new products," she summed up.
"The company consists of people whose knowledge is hidden inside, and around them there are just a few processes. The employer's task is extracting knowledge from brains and turning it into a process. To have less knowledge and more processes," continued Konstantin Bocharsky, the founder of the Pressfeed platform.
In addition, the complexity of economic processes dictates the need in more effective relationships with the external environment, which becomes a separate competence. "Now ITMO has selected 50 best technological projects in the form of developments, patents. And today, specialists for their packaging and bringing to business are being trained," commented Irina Alisova, IT expert at ITMO University.
It is important not only to develop, but also to properly package the project, Natalya Buyar, Deputy Director General of Volex Internet Advertising Agency joined the discussion "A problem of our industry is that customers are not ready to pay to intermediaries. Often average business says, "Why should I pay to an intermediary? I'd better go ahead with neither skills nor knowledge." The problem with our market is that people are not ready to pay for knowledge."
Put Brains on Autopilot
The experts have called work process automation a way to improve the quality of business management. "Automation is a dream of any business, because people are very uncomfortable material. For example, Amazon recently announced a neural network generating product reviews which are not different from human ones. Or the guys in England engaged in neurons have developed a fact validation system. This is the next stage," Mr. Fedchin said.
First of all, automation shall affect routine processes. "Artificial intelligence enters the business at breakneck speed. Oxford has recently conducted a study on jobs which will pass into oblivion in the coming decades. Lawyers are the first of them. Huge legal practice, huge databases of legal decisions can cause a situation when a decision is made automatically based on the accumulated practice", Mr. Belozerchik said.
According to Konstantin Bocharsky, creative processes can be optimized. "Complex intellectual processes are divided into stages, and each stage is slightly automated. As a result, we get very high output efficiency achieved by simple steps and actions," he explained his idea.
Nevertheless, there are challenges which artificial intellect cannot solve. "Today, there are such intellectual services for people who have tried everything and want new emotions and impressions. Now they want to ride a shark and are ready to pay the agency any money. This is not artificial intellect, but knowledge of human nature, or human nature will help a person generate new ideas and survive in the world of robots," Mr. Belozerchik believes.
"Business stems from an idea. Someone should give an idea, a start – where we are going. Neither robot nor neural network can form a trend. People will generate a trend anyway," says Leonid Shapiro, CEO of Gamma Media. "We should not forget that creativity should come from a person. A person should properly manage this information, but information can be collected by a system," Mr. Dyshlyuk expressed a similar idea.